2013 has been over for all of two hours and rather than being in an alcohol induced stupor parading my dancing skills (or lack thereof) on the dance floor, I find myself sodden and sober after a fairly tedious work shift. When better then to discuss in length my favourite albums of the previous year. This year unlike the last I made sure I listened to as many new albums as I could so that I could compile as comprehensive a list as I could and I've got to say I am not displeased with it. So in reverse order;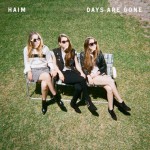 10. HAIM - Days Are Gone. This entry by the Californian Family Trio squeezed into the top ten, relegating the likes of Kanye and Laura Marling to the outcast pile. A solid début from the much hyped Haim sisters is fuelled by four top quality singles and a number of album tracks that aren't too shabby either. For me the stand out track is Don't save me which was released as a single towards the end of 2012 but still holds strong into 2014.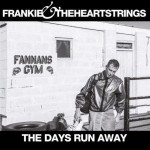 9. Frankie & The Heartstrings - The Days Run Away. A favourite of mine since 2011, this Mackem four piece have had a busy year. Not only have the band released their 2nd full length album and toured extensively throughout the UK, they have also opened their own multi-purpose store Pop Recs Ltd. The flamboyant front-man Frankie Francis lays his vocals over tracks which aren't ground breaking (in fact they often sound dangerously close to plagiarism) but provide an easy to listen to fun half hour of indie pop.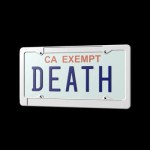 8. Death Grips - Government Plates. The Controversial Dance/Rap act released what they call a mixtape but to all extents feels like an album proper as a free download in mid November. Despite being their third album in 2 years it feels like it has been worked on in great detail and is possibly their most fluid sounding to date. This release will by no means be to everyone's taste but it is certainly different to most things that I listened to over the past 12 months, I would recommend This is Violence Now (Don't get me wrong) as a track to ease yourself in to their world but in truth it needs to be listened to in full to provide the desired effect.
7. The Strokes - Comedown Machine. 2013 was the year of surprise releases and this effort from The Strokes was no different. After releasing comeback single One Way Trigger in early March, the New York bands 5th studio album came shortly after. What was seen by many as a return to form after 2011's Angles is still not their best but is yet very listenable and deserves its place in the top 10. Track 50/50 is one of the highlights despite sounding like something that The Paddingtons (anyone remember them?) would have released in the early 2000s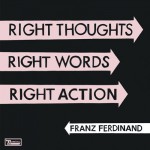 6. Franz Ferdinand - Right Thoughts, Right Words, Right Action. This 4th Album by the Glasgow four piece unlike the above two was very much expected having not released an album for more than 4 years. Unsurprisingly this did not disappoint, I was lucky enough to see this band twice in a week in August this year which really helped cement the album as one of my favourites of the year. The final track on the album, Goodbye Lovers and Friends, provides a great end not only to this release but most likely every Franz show for the foreseeable future with the last line stating "This really is the End". Either that or they have announced the end of the band which I really hope isn't the case.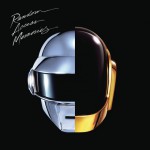 5. Daft Punk - Random Access Memories. From the 10 second advert during the Super bowl to the slightly longer advert at Coachella Festival to the rumours of its first full play being at a farmer's festival in Australia the PR team working on Daft Punk's 4th album got everything right. By the time Random Access Memories was released it was the only thing that anyone in the world was talking about and what it provided was a completely new sound from the band, a sound that at first I wasn't too sure about but quickly became accustomed to. Having ditched their previous sample heavy melodies in favour of real instruments they may have lost a couple of their original fans but seemed to have gained an a whole lot of new ones. The stand out track for me is the initial release, Get Lucky featuring Pharrell Williams but again the piece works best for me when listened to in full.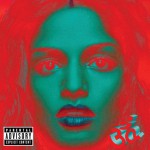 4. M.I.A. - Matangi. Very much a make or break album for this local hero of mine and for me it hit all the right chords. Maya Arulpragasam's last album MAYA was without putting too fine a point on it terrible but with Matangi she has got the balance right between her political message and making good music to listen to. The Track that really got me into this album was Come Walk with me which immediately has a much more listenable quality than some of her previous work and this is echoed across the album but it doesn't take anything away from the personality that she has built up across her previous three studio and numerous mixtape releases.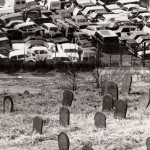 3. Drenge - Drenge. For me this is the most surprising entry into my list as it doesn't really fit into any category of music that I tend to like. Sure if you listen closely you can hear that it has influences of The White Stripes and Nirvana but at its most basic it is a straight out rock album, something which doesn't usually interest me. Nevertheless in Bloodsports you find my top track of the year and in all its self-titled glory this début from a couple of posh brothers from Derby have made one of my favourite albums. Having seen the band twice this year I do unfortunately have to say I think they are better on CD than they are live but this said I am not rating live performances so top marks to this effort.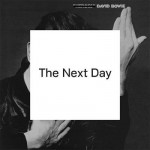 2. David Bowie - The Next Day. Probably the biggest surprise to hit the music world this year was the release of the single Where are we now? on Bowie's 66th Birthday. I had heard rumours of ill health for the ageing star, so to see that he was in fact thriving and writing some of the best music that he'd released in years was an extremely pleasant turn of events. For me this really was the year of Bowie, this released spawned a new found desire for me to listen to all things the Essex wordsmith had made and this coupled with the exhibit in the V&A has enlightened me further to his talent and made him one of my all time favourite artists. Title track The Next Day as well as being one of my favourites on the album became one of the most controversial singles of the year with its video being banned from a number of TV and Internet channels for its less than favourable religious imagery.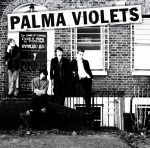 1. Palma Violets - 180. So we come to my number 1 and it is the début release from Lambeth Four-Piece Palma Violets. 180 is without doubt one of the shoddiest recordings on this list but in this it tries to keep the raw emotion and energy produced by the bands live performances. Unfortunately for me having seen the band three times this year and once in 2012 I have to say that it doesn't quite catch that but nevertheless it has enough to it to make my number one spot. It is obvious to me why I rate this band so highly as they embody all the good things that make the Libertines my favourite all time band and with that is the worry for me that their shelf life could be as short as my Arcadian heroes. I fear that this album could well be a fleeting moment which will soon be gone to soon which makes it that little bit more special. Unsurprisingly for an album that I have rated as my favourite of the year I like every track even the ones that on first listen I was unsure about but if I had to name a couple Best of Friends and Tom the Drum would probably just about pip it.
Other honourable mentions go to Kanye West and Laura Marling as mentioned briefly above as well as the likes of CHVRCHES, Billy Bragg, Earl Sweatshirt and Peace to name but a few who only just missed out on a place in the top 10.
The wooden spoon this year unfortunately is handed to the writer of of one my all time favourite albums, Akala. In his 'Thieves Banquet' album that he released in May this year I'm sad to say he shot and missed quite badly.
And so we have it another year over, another year just beginning. Scary really how fast these things are going these days. By the end of 2014 I will be married and it will have been 10 years since the greatest year in my musical life. Crazy. Here's to another 12 months of great releases!
END