So on saturday the 15th of july 2006 came the day of my charity run. The Sport Relief Mile. I wouldnt say I trained for it although in the two weeks after signing up for it I have done more exercise that I have for an awful long while, played football on no less than 4 seperate occasions, played Tennis twice and even once had a little dancing session but that was accompanied by a few drinks so that doesnt really count.
Twas the morning of the 15th and after I had showered and eaten my breakfast which included a banana (ask any athlete, those things are bursting with energy or sommat) I started on my devious plan, spraying my hair a beautiful red. It wasnt quite as prolific a colour as I had expected but nevertheless it was red and when I can track down the picture I will scan it on and put it up HERE.
I met up with david at the colliers wood petrol station and needless to say he was in awe of my beautiful barnett, if I can remember his exact words were.. "why?". Anyway we got on the tube and headed up towards blackfriars. We got there in plenty of time and huddled amongst the crowd waiting for the start. When in this mass gathering of people I realised that my attempt to gain attention was in comparison with others quite understated as there were runners dressed as batman and robin, ronaldo and rooney and the 118 team. My red hair merely looked like i had a weird hair style, oh well it is the thought that counts.
At about 10:30 we got warded into the area ready to start the race. BUT first we of course had to have a nice little warm up, this consisted of 2 women leading a basic dance routine backed by Queen's, Dont stop me now. Of course I followed every move precisely and thus I feel I benefited from the workout. Dave and John didnt dance quite as energetically but then they knew they couldnt out do me. Then 10:45 the start and we were off, us being laddish types we started by quickly weaving in and out of the runners to try and get up near the front. This may not have been the best idea in the long term as we got tired quite quickly, but we persevered and run to the half way point without stopping. Unfortunately though soon after that me and Dave had to stop and walk for a bit. John ran on without us, bloody show off. We walked for a bit, then another burst of running then another walk before the final stretch, we could see the end of the mile so we decided to run I was quickly getting tired though so I took the obvious reaction, I started to sprint as fast as my little legs would carry me. Of course I didnt tell Dave as I wanted to beat him. Then he obviously started to sprint aswell and about 20/30 metres from the end he got past me, of course I was having none of this and so pushed even harder I managed to catch him but I didnt have enough to get passed him so i settled for the draw. I believe that our finishing time was about nine minutes and thirty seconds which was under ten minutes which was my first priority so I was happy.
At the end of the mile we saw two members of McFly which was nice, the blonde one and the other singer, unfortunately as I was a bit knackered after just running I couldnt remember any McFly songs to sing at them.
After finishing the race we had to walk a maze like path through the streets of London to get a bottle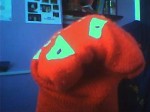 of water and a 'goody' bag. GOODY BAG, you generally expect that to have goodies in, not a booklet about the various salads you can buy at Sainsbury's and a piece of cardboard saying you've completed the mile. To be fair I wasnt really expecting one at the start of the day so it was something and I did get the sport relief sock which I duely turned into Monty the sock puppet. What a character he was, I kept him on my hand for probably nearing an hour as we walked through and eventually sat down in the various parks in London. After a nice little relaxing sit we went home.
So far I have raised £187 but I am still looking to get more as I am greedy to help charity. I have been promised another £25 which will get me passed the 200 mark. Although I am greatful to all my sponsors special thanks have to be given to a Mr. Darryl Mootoosamy who through the wonders of online sponsorship has donated a hefty £50. Darryl is now my hero and shall forever be deemed as such.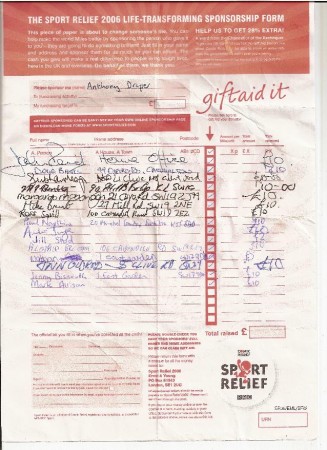 And yes that is the signature of home secretary John Reid at the top, I know that most won't know who he is and the rest wont care but I am still proud to have his name on it.
thats it for this post. see you soon.