Sigh, humanity sigh. The events of Friday night have hit me hard, not because I knew anyone there, not because I particularly love France, not even particularly because of the events themselves but because of my ever failing belief that humanity is good.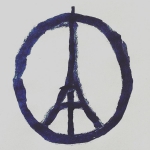 In short the events of Friday 13th November 2015 saw 120+ civilians killed in terrorist attacks in the French capital, civilians who were enjoying a night out at a rock concert or at various bars, they did not deserve to die.
The aftermath saw millions take to twitter and Facebook in shock over the atrocities that had occurred in Paris but then the tide turned, for a lot of people the shock turned to anger and that anger got spilt out towards more people that didn't deserve it; refugees. Facebook became awash with hatred "close our borders", "don't let the immigrants into our country" I am ashamed to say people I regard as friends were speaking this rubbish.
The current refugee crisis is caused by millions upon millions of poor people who are unable to live in their own countries, often the country that they grew up in and love, because they are running from the same terrorism that hit France last night. Whilst the emergency service were still fighting the cause in Paris, anti-migrant groups in Calais set fire to a refugee camp. This horrible retaliation, which dragged precious resources away from the incident in Paris is for some unknown reason not being reported in the same way that Paris is being treated, yet it is the same story, innocent people being attacked by terrorists.
This horrible tit for tat mentality is exactly what terrorists want, what better propaganda is there for enticing people to join extremist groups is there than showing innocent Muslims being attacked by evil Westerners. It is no coincidence that fake Syrian passports were found near the sights of the bombings despite 7 out of 8 attackers already proven to be French nationals. It is all to provoke further rash outcries to use as more and more propaganda.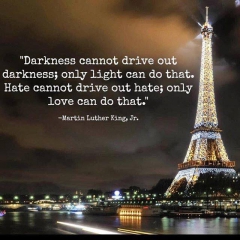 The worst thing is, even without these tactics from terrorists our own press provide enough hatred and vitriol to easily go around. Before the attacks took place I was reading the Evening Standard on the tube and read the front page article about the death of Mohammed Emwazi, dubbed Jihadi John. I found the article particularly unpleasant, glorifying the death of this man saying that he had been 'Vaporised'. It went on to mock that he was bullied at school.. Now this to me points to a man who was crying out for help and unfortunately found it in the arms of a terrorist organisation. To me this shows the failings of British society that allows children and young adults who need guidance to fall under the radar. This paper, read by hundreds of thousands of people every day is spouting such hatred that sadly a lot of people take at face value and thus this cycle of hatred keeps on going.
For me this all comes down to one fact, if one person wants to kill another person whether it be in the name of 'religion', revenge, war, whatever there is something wrong with them. As humans we all can see our own mortality and to want to take that away from somebody else is not natural. People committing these atrocities aren't well, they need help and fuelling their vulnerabilities with hatred will not work.
Imagine in the light of this the West said, lets not send in more air strikes, lets show that we can be the better people. Let us publicly display more affection towards the refugees and the horrible plight they are escaping from. That message of Peace will be a lot harder to use to recruit more members.