I must admit my blogging has been a bit lacklustre since my adventure to the Holloways gig and although some large events have happened I havnt got round to write about them so here is a shot sharp list of interesting events in the amazing life of Ant D.
Friday 31st March: Easter Holidays begin with me not bothering to go to school as I had no lessons.
Thursday 6th April: Met Gordon Brown, future PM of the United Kingdom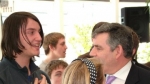 in what can only be described as pre-council election publicity shoots, but still it was nice and I can say Ive met him and shook his hand.
Friday 7th April: Little drink up in Clapham
Monday 10th April: Football game in Lower Malden, I scored an impressive 11 goals in my teams 35-33 win, an amazing feat I am sure you will agree and one which i have never done before and will probably never do again
Tuesday 11th April: Absolutely nothing as I could barely move from day befores action
Wednesday 12th April: Met Tessa Jowell, minister for sports and culture, I have no pictures of this though unfortunately as I had to rush home to watch the Arsenal vs Portsmouth game which frankly was more important.
Thursday 13th April: Maundy Thursday mass which included my sister doing a reading
Good Friday 14th April: Procession of the cross in Carshalton where I carried a smallish cross and got soaking wet because of the rain. Also saw cousin who has been living in Australia for past 6 months or so.
Easter Sunday 16th April: Ate some chocolate, went to mass
Wednesday 19th April: Back to school, Arsenal vs Villareal in the evening watched with family and friends in the local public house
Sunday 23rd April: Bought tickets to see a little known band called Little Man Tate in the 100 club (where I saw the Holloways) on Tuesday 23rd May, same day as my practical Physics exam.
And that is today, hopefully a bit more regular blogging from me in the near future, see you later people of blogspirit