The day didnt have the most exciting start of all as I had the first of my summer exams, The physics practical which to all extents seemed to go quite well despite my revision really being limited to about 5-10 minutes but that test is as much about common sense as it is about physics so that was ok.
After the exam me and 'da physics crew' as I have decided to call us all went down to wimbledon for a nice little meal at pizza hut express which was pretty tastey and then as I was going to put my rubbish in the bin I managed to chuck it onto a nearby customer which I must say was a tad embarrasing. I then quickly ran out of the area. We then trundled down to HMV where I bought the Boy Kill Boy album and also the Little Man Tate single on a special edition yellow vinyl. Leander and Ian romantically went to see mission impossible 3 together and me and matt went our seperate ways home, knowing that seeing the movie first would make it hard to get ready in time for gig.
So the original ticket holders for the gig were me, dave, shane, mike, matt bond, blondie and rossy but unfortunately both mike and rossy had to pull out so I had to quickly get in some replacements and they were in the form of Tony and John(PNB if any of you old readers still care). John didnt join us 'till later as he was shopping in sainsburys or something. Anyway we got to the 100 club pretty much bang on time and on my way in I saw the lead singer of Little Man Tate and did a friendly nod in his direction and he said "alright mate" in his strong sheffield accent which was nice. 7:30 turned out to be too early really as the 1st band didnt get on until about 8:15 but by then i was already into my second drink so it wasn't too much of a downer.
I have absolutely no idea what the name of the 1st band was and so I will merely describe in the best way possible, a bunch of middle aged men with very little talent. Saying that though they werent boring as the lead guy enjoyed his crowd involvement jumping off the stage on numerous occasions once pointing and singing at me and another sitting next to Matt and singing into his eyes, Matt didnt seem to enjoy it unfortunately giving the man the dirtiest look youve ever seen. During the set whilst I went to get another drink I managed to pull of another embarrasing feat, this time whilst trying to step over a chair, knocking it over, stamping on it and making a louder noise than the actual band, but this time i had nowhere to run so i just sat down quickly and looked sheepish. John arrived shortly after the band finished their set and so he bought me another drink cos he didnt have to pay for a ticket as such.
The second band were a damn sight more talented than the 1st but again I missed the name which is actually quite annoying cos I wouldnt mind finding some of their tunes. The lead singer of this band was clearly gay, wearing his tight pink top, tight jeans and pointy shoes. John being John went up to him after their set and actually asked him if he was which was interesting as he said he wasnt but I am pretty sure he was lying. Their bass player thought he was Flea from the red hot chili peppers as well and apparently looked like some actor or something according to Dave. But as I said they were pretty good. During this set, Matt managed to out embarras me by spilling over some strangers pint and thus having to buy him a new one.
So finally on to Little Man Tate and what can I say they were great, they really got the crowd going from the openers 'Man I hate Your Band' and 'Court report' you could see that the majority of the crowd knew the words and were singing along. Again I managed to take up the place behind the pillar but this time I didnt stand for it and moved round to get myself a better position even if it meant pushing through. By the middle of the set the crowd was getting nice and lively and me and John had managed to get quite close to the front. The odd crowd surfing incident started to happen which didnt please the security people too much. I was getting in the crowd and jumping and singing all over the shop, it was fantastic, probably the most energetic of my limited gig going career. The climax of the set was 'Down on Marie' which was clearly a crowd pleaser and the whole place went mental, crowd surfers being chucked around everywhere and jumping and pushing (no random beatings so i refuse to call it moshing).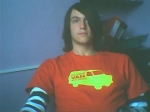 And that was it the gig was over and it left me wanting more and so as I did at the last gig I went straight off to buy a t-shirt and also one for tate who unfortunately couldnt be there. If you ignore the startled look upon my noggin you should be able to see the magnificent t-shirt. It also has Little Man Tate written on the back. It is most beautiful.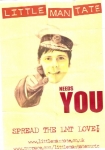 I also fancied the poster off the wall and so with the help of Shane it was mine and as you can see from my scanned image it is great, I think I might put it up on my wall, but then I would have to get more posters so then again I might not.
And that was the end of the night for Dave, Shane, Matt and Tony but stupidly me and Blondie trusted John to take us to some place afterwards that he said would be great. Of course he didnt actually know where it was and by the time we got there it had just closed so that was a complete waste of time. We ended up walking around central London for about an hour before I gave in and just said I wanted to go home as it was about 12:30. And the worst bit is, it means John still owes me another drink.
I got home at about 1-1:30 and watched a bit of big brother, played the single once more and then nodded off to sleep and so the end of another great adventure. Until next time goodbye