Ahhh my first blog since arriving at Uni where I will concentrate soley on one event or at least one night of events, last night saw the band that is boy kill boy come to Essex University and thus the 1st good band that I have seen so far and so the night went as follows.
At about 6 o'clock i realised that infact I wouldnt get any work done before we were scheduled to go out at about 7:30ish, so I messaged Ben and we went out to the kitchen, made us some toasties (its the thing to do now) and then we decided hey why not go get some alcohol from the uni shop cos it will be cheaper than buying at the gig, and so we did, only 2 cans each mind and then we hung around the flat for a while gathering nicole and alex before setting off for the gig at about 7:45
When we got there though the doors still weren't open so we had to wait a while and then after a few minutes we went in, of course straight to the bar for a quick refreshment and then we waited for the 1st band. They were Vega4 who opened with an apology that half the band werent ale to turn up.. of course no one really cared as no one knew who they were but they turned out not to be too bad, a bit slow but nevertheless not terrible and they did get a big cheer when changing one of the lyrics in their song to essex university.
The 2nd band were called Ali Love which is a terrible name so I assumed that they would indeed be terrible but in fact they were more enjoyable than the first lot, the lead singer was undoubtedly very cool despite his love of tight jeans. The set was finished with a song called K-hole which he said that we would all know what it meant, out of all the people I talked to not one did, but now i believe it is something to do with being high on Kitamin (some sort of drug i assume) but anyway it was a great song especially live, I listened to the demo from myspace and it wasnt as good but still a solid song.
Then to the main event Boy Kill Boy, they were clearly a very well rounded group even if all of their songs do have a similar sound to them but hey if its not broke why fix it, over the course of the set they played all their singles and a couple of new ones and despite my shouting there was no playing of Maneater which they covered so brilliantly on radio 1 a few weeks back. They did acknowledge my shouting though which I was pretty chufed about saying "maneater, dont you want to hear any of our songs" they also played a song that they said they had never played live before, called A-OK so I feel special. Even more special since after the set the lead singer shook my hand 1st and despite him trying to get away I made the keyboard player to shake my hand and he didnt shake anyone elses how cool.
After the show we went onto the Lost Disco because we are all so hardcore, by the end of boy kill boy we had met up with Sue (lip ring girl) and this guy called Rossen who is quite funny, and inside we met up with welsh Dan and the two Stephs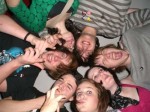 and then we got down to some serious Indie dancing despite no one else there really being Indie, Alex and Nicole flirt with the idea but really they just dont match up to the standards. It was a good laugh but we were all quite tired and so we left by about half past one despite the constant playing of Libertines Larrikin Love and such, but Ive got all the songs on here anyway so there.
And that was pretty much that, I should probably get down to some hardcore working right now so see you all soon.. END