In a perfect world this blog should have been two seperate entities, the first a positive outlook at Hares a band made up of an ex-Holloway and some Musical Differences and the night that ensued. The second would have been a more negative tail of the fall from grace of my 2nd all time favourite band, the Holloways. But considering my scarce blogging in recent times I think having one to cover the both is more than you as readers deserve.
So onto my first adventure into Camden on Tuesday of this week. I had taken two half days on Tuesday and Thursday in preperation for my Camden Nights and this would mean being pushed for time. At first I thought that I would be going with my sister, in the end it became me, Ross and Leabder without Caroline but that is neither here nor there. I ended up in Camden at around 9pm already fueled up on a mixture of Cheap Cider and decantered lager and the 3 of us made our way to the Flowerpot.
By the time we got there it turned out we had already missed the first act and were already half way through the second, a band called Patch William who for some reason I had heard of previous. I wasn't too bothered by this though as it wasn't for the warm ups that I had come to this free gig, no it was for the main act of the evening, a band by the name of Hares. We milled around in the bar for a while being served drinks by the one and only Dave Danger, another ex-Holloway who it turned out was now working there. Hares took to the stage at aproximately ten pm and started strumming away into ther night.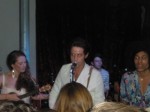 They play a fairly relaxed folk inspired indie music which although a lot more mellow does not venture too far away from The Holloway based routes. From the single release Pink Radio to the older tracks such as Found the Sound they treated the crowd to a good set which eroused a good atmosphere in the room. It turned out that this was to be the last gig of Bassist Slinky Winfield's last performance with the band. On research it seems Slinky has been around a bit playing bass for the likes of Laura Marling, the More Assured and of course the Musical Differences as well as a number of TV presenting and acting roles. Why have I done this research? You might ask. Well you have heard the expression Life and Soul of a party, whereas Rob Skipper (the initial ex_holloway that I talked of) is the soul, Slinky most definitely is the life. He was a non stop bundle of energy running up and down the stage and provided the vocals for found the sound. I fear for Hares, if they don't find another bassist to replace this energy they may struggle to produce anything with any real commercial appeal.
Anyway the band finished at around 11 or so if not a tad earlier and Leander left soon after but me and Ross being the party animals we are stayed later and danced to the selection of music dealt to us by the DJ, from Good Shoes to Michael Jackson it provided a backdrop to a beautiful night of dancing and drinking. The offer of a vodka monster for just £2.50 (it doesn't get much better than that in trendy London as you will see later) was heavily taken advantage of as we boogied away. With the liquid confidence running through my veins I initiated conversation with not one but both of the ex-Holloways that graced the room with their presence. I first got a photo with Dave at the bar, then went on to chat to Skipper on stage about how I knew of Hares and how I would be going to see the Holloways later in the week. He said that he too would come to watch them which made me think 'hoorah they are all still chums and who knows they might all get back together'. This may have largely been the drink thinking. I then went on to talk to Dave again, asking him if he would be coming on Thursday, he wasn't he was working. He then unprovoked went on to say how dissapointed he was that Alfie and Bryn (other Holloways) didn't come to this gig, especially considering that the now homeless Alfie was staying at the pub rent free. My feelings dropped, maybe there wasn't as much love as I had hoped. I still left in a jubilant mood.
Got home remembering very little of the tube journey, fried some eggs with Ross and watched the highlights of Arsenal's 4-1 thrashing of the Tottenham scum. Nice end to what had been a near perfect evening.
Onto Thursday and the second act in my Camden Nights adventure. I was to be seeing the Holloways, ahh the Holloways what a band. This was to be my 13th viewing of the band, the 12th having ended in rather unsavoury fashion with my arrest after being wrongly accused of kicking a girl in the head. Anyway I had high hopes for my first Holloways gig of 2010.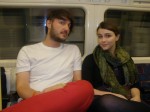 So me, Caroline and Ross got on the tube at 7:30 and headed to Camden Town station. I was dressed as a complete knob as is acceptable in Camden which came back to haunt me as my lack of coat did not help when faced with a down pour at the other end nor was my beautifully styled hair very rain proof. Anyway we marched up to the stables like there was no tomorrow and eventually after a slight detour via a cash machine and a slight misjudgement in direction on my behalf we got into a very empty proud galleries. Considering this was a good hour and a half after door opening I didn't think my timing was that bad but apparently the fashionably late is the way it is done in these parts.
What else is there to do in an empty club apart from go straight to the bar? so that is what we did, I bought myself a bottled beer.. £3.60.. for a bottle it was a disgrace. Caroline bought a single vodka with cranberry, £4. From that point I knew it would be an evening without too much alcohol. We went and sat down with our hideously priced drinks and before too long the first band appeared on stage. They were called Milk and immediately announced that they were just filling in as a band had pulled out. This didn't surprise me as they weren't particularly talented with the high point of their lyrical talents being 'I like music, you like music, lets have a party' but nevertheless I did not complain as the band did comprise of a man and two semi naked women. They though were soon over and we took our seats again, despite my better judgement I headed back to the bar for another bottle and after 45 minutes or so the next band came on, Sissy & the Blisters. They were a fairly generic indie rock band complete with oddly shaped guitar and a lead singer off his face on drugs. None of their songs stuck in my head and there were no scantily clad women on stage so their set largely passed me by without too much attention.
We all knew what was coming next, The Holloways. So we stayed standing after Sissy and danced to the selection of 80s music laid on by Bryn (holloways bassist) who was behind the DJ decks. Before too long the Holloways took to the stage as a 5 piece, of course Alfie and Bryn, the drummer Ed had been part of the band since the original split, a keyboardist who had played the last gig I saw and finally a new afro haired guitarist. I thought great, everyone likes an afro, this can only be an improvement but then they opened on a new song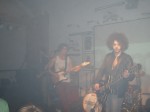 and unfortunately it just wasn't very good.. This is the first time I have EVER listened to a new Holloways song and had that reaction. I was already beginning to fear the worst. To be fair to them they did bring it back with a few old favourites such as PSB, happiness and penniless and of course Generator which I danced to like a mad man as usual but I was the only one dancing. It had become clear that the little fame that the Holloways once had was now well and truly over, their performance was met by people just politely bobbing their heads, none of the old passion. Towards the end of the set they played 2 more of their new songs which were a lot more hollowayesque than the first and in fairness were very enjoyable but in a disorganised shambles with a broken guitar they had to cut 'Alcohol' off the setlist due to lack of time, this upset me even more as it was my favourite song off their second album. They eneded as they always do on Fuck Ups which they played well but again brought no reaction from the crowd and thus when they left the stage a dejected feeling came over me and I knew that that had been the worst Holloways show I had ever been to. Yes, I am saying that I enjoyed the one where I got arrested more, at least I have a great story and a signed video as memories from that. A DJ called Wizzard Sleeve came on stage almost immediately after but I wasn't interested and so we just left. I sulked all the way home which included us missing the last tube by a matter of seconds and so having to get a couple of night buses.
The Holloways are and will always remain amongst my favourite bands and I know when I next see that they will be playing in London I will go and see them but I feel the end is nigh. They are just not the band they once were and unless they write a song on their third album (assuming it gets that far) that rivals the likes of Generator and Two Left Feet I think it will be their last. And on that depressing note.
END