1st of all I would just like to mention that I've been at University for exactly a month now, isn't that just so cool and although the time has gone by in a flash it feels like I have been here with these people for ever, how very strange.
My halloween escapades started earlier than most as a few of us decided to go and see Saw III which is the type of film that I usually evade at all costs due to my relatively squeemish nature but having seen the 2nd one a few days before and it was getting into teh spirit, so i went. Before going of course we got into our halloween outfits,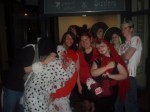 mine consisted of a bin liner for a top, a bin liner skirt type thing (with clothes underneath i hastened to add) and some fake blood and drawn on scars. So it was off to the cinema and you would be surprised how many odd looks we got despite it being halloween. The film was gory and horrible but with an interesting story line and for that fact I quite enjoyed it.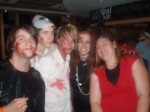 We came back to find everyone else all dressed up and so we headed off to the "halloween extravaganza" or thats at least what I thought, we made a quick detour to Top Bar where we met up with a few people and had some drinks, before actually heading off to the main event.
We went into sub-zero to find it quite packed which is quite unusual before 11 but nevertheless it was. We hung around for a bit, yes drinking and getting free hats which were rubbish until the Urban Voodoo Machine cam on, basically a massive about 8 piece band who were pretty dull but not painful to the ear holes. They played for too long and we got bore but then they were off and we eagerly awaited for the main event the horrible team of psychos that are Dirty Sanchez and they came on at around 12:15 or so and proceeded to do some stupid stunts like stapling a tounge to a book and smashing pots over peoples heads. It wasn't as funny as I was expecting so rather than staying around to greet the people I and a couple of others made off to Mondos to see the Queens of Noize.
This was easily my favourite part of the evening, cool people making good dancy music and it was just awesome. After they finished the set they tried to go on longer but the security people wouldnt let them. Then I talked to them because I could and they were brilliant and they said they liked my hair and as most will know that is the biggest compliment I can get - I did get picture evidence but so far it has not turned up which is quite annoying. Just to point out the reason why the queens of noize excite me as most of you probably wont know who they are. Basically they are friends of Peter Doherty and one of them used to go out with him and thus I have been touched by people who have touched Pete, yay, Im not a sad loser....
Anyway we then went back to flat 11 which is where we often go at the end of an evening, chatted for a bit and then back down to flat 6 for bed
END