It all started a few days ago when an impromptue meeting with Margaret McDonnagh (Sister of my MP Godmother and Baroness in her own right) led to me and my mum filling out a couple forms so that we could go to the Labour Party conference for the Prime Ministers speach. And it was as simple as that despite the fact you are meant to apply months in advance for the priviledge but as I have said before it is not what you know but who you know.
So on Tuesday morning I had to awake at the rediculous time of 6:30 in order to get a train up to Manchester from Euston. A nice shiny virgin train, very nice it was but still took bloody two and a half hours but there we go. What was worse was that half way through the journey we get a phone call telling us that there were complications with our passes, so at Manchester station we had to go and get some photos done. On the plus side we did see Jamie from Corronation Street on the train. after getting off the train we taxied off to a building where we were to collect our passes.. lots of waiting around ensued until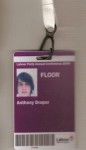 that beautiful image you can see before you, clearly a rush job as my head is clearly falling out of the bottom and the only information on it is my name whereas everyone else got where they were from aswell but then I am not really that fussed about that, I was allowed to get in.
When in the G-Mex center we were ushered into a little office area where we found Margaret who then led us off with the VIPs.. not only were we late entrants, we were made VIPs, brilliant. This meant that we got to sit down the front. Unfortunately though despite being down the front it was away from the TV cameras so unfortunately no publicity for me. The Speach went very well as I am sure most of you will have seen from the news papers, leaving the whole of the conference asking the question is it really a good idea to get rid of him but it looks like it is too late for that. Then we waited around in some lobby for a while and had a drink and then we were taken up to a suite in the Midland hotel (very posh I am told) for a photo-shoot which we were to find out would contain Tony Blair. It was a bit strange seeing people I know well just talking to the PM. After the photos we scooted off to a room where we scavenged the cakes that were left by Tony and his 'Cronies'.
And so too the part of the day that I wasn't really expecting, the virtual 'pub crawl' of an evening, going from one reception to another eating nibbles and drinking free alcohol all night, brilliant. Who said politics is boring. It started off with the Irish Embassy where of course they served Guiness which despite me not liking I had a glass of. We then moved onto the CWU party where we saw all that is good about the Labour party, a chubby northern man made a speach about how a family who was on the dole in the 80s how now sent their children to University because of Labour and then he went on to state that 'we can't let those posh boys get back into power' the icing on the cake though was their nibbles. They served lager and pork pies.. i mean can you get more brilliant than that. Unfortunately though we did get to see the otherside of the new Labour party at the News International reception where Champagne was served amongst posh people from the press including half of the news presenters who have ever existed and for some reason mick hucknall. I felt quite uncomfortable there and when they brought out the next days pressings of the Sun and the Times you know that they weren't good socialist people in that room. There were a few other receptions that we went to which I cant remember and I managed to squeeze in the watching of the last 20 minutes or so of the football before we went to bed at about 1:30. On the way home we were regretting that we hadn't been able to stay for the speaches of Bill Clinton or Bob Geldoff but luckily we saw the latter at the train station so I was happy. We took the train home and here we are now.
END