Yes it is finally here, the end of exams and not only that, the finish of my school life!!!!
The exams in the end rushed upon me and then rushed passed again. Some went well and some not so well, namely the physics paper 5 where I ended up writing something in French because I didnt have a clue where to start, also in that paper i believe I wrote a nursery rhyme, told the examiner not to bother marking it because I knew it would be a U, wrote AMPS several times in capital letters and drew an unhappy face.. so I think it is unlikely I will get top marks on that particular paper. On the whole the other exams were ok, history and Politics went by with few drastic errors despite me choosing the questions that nobody else did in the politics exam which is always a worrying sign.
Now for the big and surprising news for some readers, whereas it will probably be quite boring dreary news for the most of my 'fan base'. I have decided that I want to take a gap year. Yes, despite having sent off all the applications, taken trips to various universities and having horrible interviews I want to take the year off.
I came to this decision on the night before my first History exam, having realised that I had not done enough revision and that I would probbaly not get the grades I wanted to go to Essex anyway. The thought occured that did I want to do another 3 years of work straight away knowing that I couldnt be bothered to revise properly for these ones? I concluded to myself that the answer was a simple no. Also whilst thinking this over I thought of many other reasons why University this year is a bad idea, namely that I dont have more than £5 to my name and so a year off would give me time to earn a bit ready for next year. Other reasons I came up with are as follows:
I want to learn how to play guitar and that wont happen at uni
I want to learn how to drive before I go
I want to improve my inevitably average to poor exam results
I want to learn sign language (for those who dont know, I have a disabled brother and although he cant do sign language I have been around a lot of people who do and it is quite interesting)
I want to get a bit fitter, to entice all the ladies once i get to uni ;)
And finally I want to go and visit my mate Ross in America (where he is doing a year of university) and it will be easier to do so if I dont have to miss any lectures, also with the old money situation.
Yep so that is that, although I havnt yet told my parents of this, it will probably come as a bit of a surprise to them when I eventually get round to telling them, which will probably be the day before im set to go off to uni or something.
I will finish this blog with 2 p.s. comments:
1st of all I am proud to say that I live only two minutes away from what BBC viewers voted the most hated building in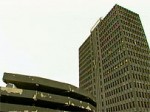 London and to anyone who questions my pride of this you are just jealous that no building near you have won any prizes recently
If I have done it correctly, you should be able to get to the article by clicking on the picture
P.S. number 2 is that I, Anthony Draper will be taking part in the sport relief mile on Saturday the 15th of July 2006 and if any of you fine people wish to sponsor me all for the good of charity it would be most welcome. Obviously I realise that you can only really do this if you live reasonably close to me which is quite a large percentage of my reach. But if ANYONE wants to sponsor me Im sure we can find a way for you to do so.
Tarrah