Sunday the 16th of December was to be the day that I trundled home after my university term had finished, but a couple of days previous, my sister had contacted me and told me that I should come and see The Pan I Am playing free somewhere in Camden and if that wasn't enough of an incentive, it was free aswell. (Just to point out here, for those who don't know, The Pan I Am is a band formed by ex-Larrikin Love lead man, Ed Larrikin.)
Of course I thought that this was a great idea, Larrikin Love were one of my favourite bands and having only seen them twice before the split I didnt want to throw up this chance. So the morning came and I packed my bags and realised.. bugger I'm gonna have to take all my bags to the gig, but this didn't stop me, I went down anyway.

So i got to the Lock Tavern, to find that to my surprise it was not just the Pan I Am playing but also, the Metros, 2 members of the View and the Magic Numbers, a less useful surprise was that the gig did not actually start until 5:30 when my sister forced me to get there by 2:30. That was ok though, we took an expedition up to the the less market-like parts of camden and even when into a large morrisons where we sat and ate a late lunch consisting of sandwich, crisps and salad, all of which were a little off, but for £1.69 I couold hardly complain. We made our way back to the pub for about 4:30ish and sat down and waited.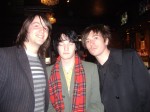 Soon enough Ed Larrikin came in and to our delight so did Drew McConnel, the bassist from Babyshambles. Me being me I couldn't let this opportunity go so I had a photo. When I asked them for a photo, first Ed said ok and tryed to move out of the way so I could have a phto with drew but then I said no and dragged ed back in and drew tried to walk off but I said No again and dragged them both in with me. Ed unfortunately had his eyes closed and after complained of the light being too bright (I think he was stoned) but apart from that another great photo for my collection.
We sat back down and conversed, waiting for the first band, The Metros to come on, Little did we know, they were actually playing in the room upstairs. the acoustics must be very good in there because we had no idea this was happening. So we missed that and thus were sitting around doing relatively little until 6:30 when the band showed life and by 7 they had started playing.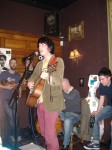 As far as the Pan I Am go they were pretty good. The band consisted of a violinist, a cellist, drew mcconnell and ed larrikin and a man on the marracas. They played a few songs which i hate to admit I didn't at all know but I enjoyed thouroughly especially one song which I am informed is called something about Lucifer. Unfortunately due to the situation I found myself in with the bags and Caroline had some home work to be getting on with (ahh little sister still being at school) we decided to leave and thus not see the two members of the view nor the Magic Numbers who I am sure both put on a stirling performance. So we trecked off back to the tube station and made our way home.

A very enjoyable performance despite my less than gig-like apparel. I shall be seeing them again with less baggage.
And that is that for my Pan I Am blog, it was a little bit of a kop-out as I just adapted my 'last.fm' review into a more blog-worthy state. anyone who hasn't yet, join last.fm it is amazing. anyway ta-rah for now
END