Thursday 17th August 2006.. the day that my A-Level results come out.. so of course the first thing I did in the morning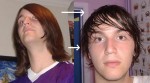 was go and get a whole lot of my hair chopped off, I mean what else does a boy do. I thought that I would treat you readers with the results of this hair surgery. It is a bit shorter than I had been expecting if I am honest but nevertheless I do like it.
After the hair cut I made my way to the school to pick up my results at about 11. At this point I was still not even nervous about it. I went in and picked up my envelope but I refused to open it until someone else I knew got there. Soon enough Matt Tate and Dave came in. We all opened together and BAM!! i had completely messed up, I got a B in politics when I had almost certified an A after 4 modules. I got a C in history which I was expecting really and finally an E in Physics after I had effectively failed the whole second year. But still I was upbeat. Tate was the only one of my mates who appeared to have done at least as well as he was hoping, unfortunately he was pretty much the only one who knew he wasnt going to university this year. All feeling a little bad we left for home quite quickly, most to try and get a universtiy place through the clearing system.
Walking around Wimbledon with Blondie and Matt Bond I was still relatively happy, it wasnt until I had to endure my own company that it really kicked in quite what had happened and how I didnt really know what I would be doing with myself. I got home, told my mum and thus got a bit of a speach of it might not be what you wanted but it is still quite good, well not in physics (little joke to lighten the somber mood). At this point I was quite miserable. As I didnt want to tell anyone mum got the delightful job of ringing round the good news.
My godmother who most of you now will know is the MP gave me a little motivational speech too, but this one wasnt sympathetic. The jist of it was basically you have to get off your arse and start thinking about what you are going to do. She told me to phone up the universities to make sure I couldnt get in and then if I didnt I should start looking for a job straight away even if not a permanent one. Of course after this I went straight back to sitting on the sofa and doing fuck all - excuse my language. But then soon she phoned back and gave me a number that I had to call for Essex and she said that she asked them and that they would let me in with the grades I got. So I called them not really expecting anything.
I talked to a man on the other end, an American, he asked me what I wanted to know and I explained that I hadnt done as well as I had hoped and I was wondering if I could still get a place. Now my biggest surprise came with his reply. "It says down here that you have been given unconditional offers by both Essex and Surrey (my insurance choice). My reaction was.. "really?" and he just replied yes. It was very confusing. After the phone call I went up to the computer and checked the UCAS website and it gave the same information as he did. I had been given unconditional offers.. I had been accepted.
Unfortunately I havnt just accepted that and gone along with it. I still want my gap year, so I have to make my final decision on what I am doing in the next week or so.
The night that followed was not as big as we had been planning. No big dancy thing in Oceana but a little excursion down to Lloyds in Wimbledon. It was a nice way to end the day I thought. Most of my friends have got into a University through clearing if that is what they wanted and so we all celebrated with a few drinks. From what I saw no one got particularly drunk and we all went home at 12:30ish when it closed. THE END
The next blog will be a tearful and heartfelt goodbye to Ross who is leaving to spend a year in America tomorrow. Although sad it will include the partying before his departure which if I have not told you about already is something quite impressive!!