What an exciting and cryptic title I hear you say, well it isn't all that mysterious when you actually brake it down into it's individual sections but I can tell you that it is going to be a blooming long blog due to the sheer amount of events that I am going to be mentioning. It should have been a number of shorter blogs but as I always seem to do I have let the activities of the last 2 weeks go un-blogged and so I will have to put them all in this one.
Now I hear you say, shut up and get on with telling us what happened. OK I will, but only cos I am very nice. WELL:
Vincent from Portobello lost his hair naturally
4 1 3 2
1. On saturday the 6th of September me and my girlfriend Kalistra decided to go to Portobello market, it is something that we have said we would do since the start of the holidays and had never got round to doing until this late stage. It was very much worth it in the end though. As I had been at work for 3 days previously I had started getting used to the early rising and so getting up at 9am on the Saturday was no trouble whatsoever. We tubed up to Notting Hill Gate and despite going round in a circle at first, got to the start of the road by about 11. At first I wasn't impressed but as we got down into the main section of the market I slowly realised that actually it was BLOODY AMAZING. It would be a crime to compare it to Camden market as it is so different but I shall do it anyway, Camden is good for the mid-teenage years, Portobello is for the more mature shopper with all sorts from a nice selection of clothing, to food, to telescopes, to disco balls. There was one disco ball, at least 20cm in diameter for £10, I do and I don't regret not buying it. I do cos it would have been fun at first, I don't because after a few days it would lose its magic.
Anyway I'm getting distracted, we were walking down the market, Kalistra would stop at every other stall to look at dresses, first liking it, then saying no, then changing her mind a third time deciding she liked it before finally moving on to the next stall. I on the other hand was more fascinated by the food stalls and eventually I did influence her to get some food, despite us knowing we would eat a little later on. We bought a cheese, mozerella and salami sandwich which at £2.50 was a rip off but it was quite nice. It was not a total waste of money though, as when looking for a place to sit and eat we went down a side road and there I saw it, one of the Legendary Rough Trade Shops. I love the Rough Trade brand as it was also the label that signed both the Libertines (my favourite all time band) and the Strokes amongst many other amazing indie bands. After eating I went into the shop and browsed for a good 20 minutes, making Kalistra intensely bored but I was too engrosed to care, I eventually bought the Ox.Eagle.Lion.Man EP but that was half so I could get a bag to say I had shopped there. We went into Jack Wills after but despite this being among Kalistra's favourite shops she was dissapointed by the selection in this particular branch and thus we moved on sharpish.
We got to the lower reaches of the Market by about 12:30, Kalistra again was looking at dresses, at one point even haggling with a man and got the price of a dress down from £15 to £13 but she still decided against it in the end. Next came some minor celebrity spotting. I can't remember her name, but it was a reasonably famous woman presenting one of those day time TV shows about selling your junk at auction or something, we tried to get into the camera shot but it seemed they were always one step ahead of us and kept turning round. We had to meet Kalistra's friend from uni (who also goes by the name of Anthony) at 2, so we started making our way back up the street to meet him at Notting Hill Gate station. We met him and walked around a bit looking for a place to eat, after some deliberation we chose the pub, The Duke of Wellington. The drinks prices at first seemed reasonable but that was just the beer, spirits were ridiculous and thus we decided not to eat our food there and instead went and bought some Paella from a Spanish stall. It tasted ok, but it went cold very quickly and so I was glad me and the lady went for a shared portion rather than getting one each. We were to meet another of Kalistra's uni friends, Kareece, to go onto the 2nd part of my story and thus we again went up to Notting Hill Gate station.
2. We got on the circle line and made our way round to South Kensington where we would go to the Natural History Museum. Unfortunately by this point it had started to rain and also Kareece was late, so we got out our brollies and waited... and waited but eventually she met up with us and we made our way to the Museum. By now it was getting on to quater past 5 and the museum shut at ten to 6 so we were pushing it if we wanted to get a real experience. In the end we decided just to get a detailed look at a small section rather than rushing around. As it is a free museum it isn't like we can't just pop in again at some point. Anyway we first went to the bird section and saw lots of dead birds and even made up a lovely story about the 2 Dodos. We then moved into the dinosaur section and between me being scared half to death by a moving model and conversations about eating dinosaur meat the time got to 5:45 and we really wanted to have a quick browse of the shop before we left. Anthony bought a fluffy dino, whereas Kalistra just wanted a plastic bag which the woman behind the desk gave her at no charge. We make a great couple with our bag scavenging. We then left to go back to South Kensington station.
On arrival Kareece told us of an amazing cookie shop that we just had to go to. We bought a load of cookies and then made our way to the platforms. The cookies were nice its true but not as amazing as I was promised but obviously I ate two anyway. It was then time to say goodbye, Anthony went one way, Kareece another and me and Kalistra took the tube back to Wimbledon before busing it back to Colliers Wood and that was the end of a very successful day in central London.
3. A week of working slowly dragged on with more filing, binding and other such menial admin work but eventually it was the weekend again and on Friday I was asked a terrifying question.. Doyou want to get a hair cut? Those of you who know me will know that my hair is of great importance to me, so cutting any amount off can be traumatic, but this time it was a far greater worry as I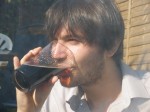 intended to get a lot of it hacked away. Now I have said this before and gone into the hair dressers and just ended up with a trim and yes I don't go to a barbers, they just don't have the style that I'm looking for, nor do they give me a haircut for half price cos they know my mum. This time it was different though, I actually had the guts to go through with it and now my hair is a lot shorter and you know what? I like it. I'm thinking I might try and keep it at this length rather than just letting it grow out again, I've had the same hairstyle for too long now. Obviously I had to parade my new look to the girlfriend straight away and although she was a little aprehensive at first I think she has grown to like it. When we got in we watched the first 2 episodes in the new series of Gossip Girl, not a patch on series 1 as of yet but it is still very early days. This though was the full extent of her visit though as I had to get ready for what was to be an evening of excitement (unfortunately without her).
4. In the evening me and Ross were off to see a band that I had never seen previously and after this night would never get the chance to see again as it was to be the last ever performance of Vincent Vincent and the Villains. Now I can't condone what we did first for legal reasons but the young ragamuffins that we are decided to stick two fingers up to Borris and his establishment by drinking on the tube, we were subtle about it, buying a small bottle of vodka and sharing it amongst three bottles of fizzy drink. These were completely consumed within a 45 minute tube journey up to Brick lane and the venue that is 93 Feet East. The £7 entry fee was a bare pittence for the enjoyment we were to get. The main gig hall was not open straight away so we stayed at the bar and had a couple of very expensive pints before the calm was broken by a samba band who took to the middle of the floor and played a very familiar sounding tune which I won't lie was very enjoyable, a good start to the evening. Ross needed to go to the toilet at this point so we made our way to the corridor next to the main hall and I waited as he urinated.. Ross was confused though, there were no urinals and for some reason ladies voices. Yes Ross had made an excursion into the wrong toilet, he was forgiven by the women who were in there though, so no harm done.
At aproximately 9:30 the doors to the gig section were opened and we went in, initially the plan was to sit down for a bit and wait for the more high profile acts to come on but I was distracted and went to the front staright away as it turned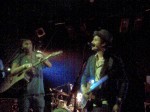 out Rob Skipper from the Holloways was playing guitar with the first act (this was not a total coincidence as he was on the bill as well a little bit later on with his side project, The Musical Differences). The first act was a man called Sam McCarthy, who apparently used to be the lead singer of a band called Gilkicker or something similar. He was pretty decent, not much else to say about him. The next band on are a band I have fond memories of as they were one of the support bands on when I first saw the Holloways at the 100 club a couple of years ago. Again they were quite good, by this stage I was beginning to get a little tipsy though so I can't pick out any one particular song or anything that astounded me, just that they were a good solid act.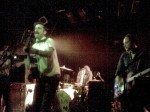 The next band were called Brute Chorus and this is where the night really started heating up, not necessarily from the music on display in fact I would go as far to say they were the worst band of the evening but during this set was when I first started building up my goody bag. After about 3 songs a drumstick had appeared at the front of the stage and so I took it. This though is far from where I stopped, I had seen a battered old cow bell and I wanted it. The band left the stage and more importantly had left the cow bell behind them, so I pleasantly asked the next man to come on stage if he could get it for me, politely he said that it wasn't his to give and instead handed me another drum stick. No this wasn't good enough, I wanted the cow bell, so I kept my eye on it. The next band on were the Musical Differences and they from what I remember were prettyg damn god, this opinion maybe a tad bias due to my admiration for Rob Skipper but I genuinely remember them being good. When they left the stage though is when I made my move, I crawled up onto the stage and nabbed myself the cowbell as well as a maracca, now that is a much better stash.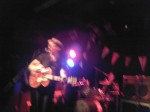 Finally it was time for the head liner, Vincent Vincent and the Villains, I have known about the band for several years but never quite got round to seeing them, so on this the day of the last gig I thought it was a must see and I was not dissapointed. They played a number of their bigger songs from their album such as On My Own and Blue Boy. Their set finished at about quater passed 12 and we made our way to the exit, Ross went to the toilet again, this time to the correct gendered one and I got talking to a man that was in The Musical Differences and I was telling him that he looked familiar and he listed other bands that he had been in, which I had decided I had never heard of which was a bit of a conversation killer. Ross came out of the toilets and we left the building after stealing a number of posters. The roudy bastards we are, we decided to wake up the people of London with our Cow Bell skills as can be seen in this lovely little clip that Ross took.
You may think that this would be the end of the night as far as excitement goes, well you would be wrong. The journey home turned out to be a bit of a struggle, it should have been a simple tale of two buses but unfortunately I had forgotten the directions to the bus stop that we needed to get to and so we ended up walking around for a little bit before getting on a bus that said it was heading to tottenham court road which seemed like roughly the right sort of direction.. it wasn't, it took the north london route that took about 20 years longer. As we were passing thorugh Camden I decided we should get off as I knew the route from there perfectly and between sharing crisps with a couple of humerous young gentlemen on the bus in Clapham and me thinking I had lost my bus pass and then finding it in my pocket 10 minutes later, we got to our respective homes at around half past 4 in the morning.
END